In each of the past two seasons, Los Angeles Rams wide receiver Robert Woods has finished with at least 1,249 yards from scrimmage (YFS).
The reason we reference YFS (and not receiving yards) is that Woods has a minimum of 17 rush attempts in each of the past two seasons and a total of 272 rushing yards over that span.
Per Pro Football Reference, there were only nine players with a minimum of 1,249 YFS in each of the past two seasons and six of them were running backs. The only receivers to do so in both 2018 and 2019 were Thomas, Julio Jones and Woods.
Higbee's breakout hurts one WR, not the other
Last December was kind to tight end Tyler Higbee, who posted five strong performances in his breakout month to lead all fantasy tight ends in fantasy production from Weeks 13 to 17.
In fact, the fourth-year tight end led the NFL in receiving yards (522) during that five-game stretch and only Christian McCaffrey (48) and Michael Thomas (45) had more receptions than Higbee.
While Higbee may have overshadowed his teammates, Robert Woods was (nearly) equally as productive.
Over that five-game stretch to close the season, Woods had 39 receptions for 471 yards and two touchdowns on 59 targets. Only Thomas (61) and McCaffrey (59) had as many targets as Woods, who ranked fourth in receptions and fifth in receiving yards during that stretch.
On a per-game basis, Woods averaged 11.8 targets, 7.8 receptions and 103 scrimmage yards per game in December. During that span, Woods ranked as a top-six fantasy wide receiver across all scoring formats -- WR5 (PPR and half-PPR) and WR6 (non-PPR).
Higbee's breakout performance wasn't as kind to Cooper Kupp. While Kupp scored a touchdown in each of the final five games of the 2019 regular season, his per-game splits in targets, receptions and yards took a hit during Higbee's breakout.
| | | | | |
| --- | --- | --- | --- | --- |
| Player | Per-game #'s | TGT/G | Per-game #'s | TGT/G |
| Robert Woods | 5.1/66.3/0.0 | 8.0 | 7.8/94.2/0.4 | 11.8 |
| Cooper Kupp | 6.1/80.0/0.5 | 9.5 | 5.4/56.2/1.0 | 6.0 |
| Tyler Higbee | 2.6/21.2/0.1 | 3.3 | 8.6/104.4/0.4 | 11.2 |
With Brandin Cooks now in Houston, Josh Reynolds and second-round rookie Van Jefferson will step into the WR3 role. Either way, Woods has a chance to step into an even larger role within the passing offense in 2020.
Recent comments made by Woods about the team's wide receiving corps is similar to how we should view the fantasy outlook of Woods -- and Kupp, to a lesser degree.
"We're not like the flashiest group of receivers," Woods said. "But we're just up there with production, up there with the best if not the best, as a group and as a unit."
While he's far from the flashiest of wide receivers, Woods is being drafted as a WR2 that could quietly produce top-10 numbers in 2020.
Fantasy Football SOS
Based on the cumulative fantasy points allowed in 2019 by their opponents this season, here are the ranks for Robert Woods and the Rams receivers rank in 2020 strength of schedule:
Woods has a top-12 fantasy strength of schedule across all scoring formats, but the outlook is less favorable for the fantasy football playoffs (typically Weeks 14 to 16) with a bottom-six SOS.
+ MORE: Game-by-game Fantasy Football SOS for the Los Angeles Rams
Robert Woods Fantasy Football ADP
Based on scoring format, here are the current Fantasy Football ADPs for Robert Woods:
Below is a chart of Robert Woods' half-PPR ADP over the past month: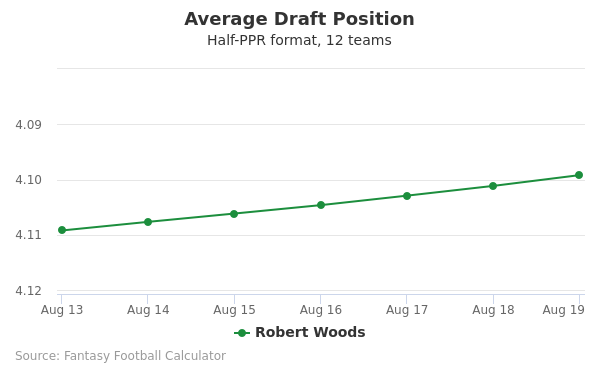 [Source: ADP from Fantasy Football Calculator.]
Robert Woods Full-Season Projections
Here are our full-season projections for Woods:
| | | | | | | |
| --- | --- | --- | --- | --- | --- | --- |
| 80.1 | 1,053.3 | 4.81 | 18.4 | 132.5 | 0.55 | 150.74 |
- Los Angeles Rams 2020 Fantasy Football Projections
- More Fantasy Football Projections
Bottom line
Relative value: Undervalued
If you start your fantasy draft RB-RB, there are a number of undervalued WRs in the Round 3-5 range and Woods is arguably our favorite within that group. Even if the Rams better-utilize Gerald Everett along with Higbee, Woods has shown an ability to produce with Higbee leading tight ends in fantasy points down the stretch. While he won't lead the league (or even come close) in touchdowns, he's a consistent performer that will deliver strong weekly performances and provide stability to your fantasy team if you take some shots with more volatile, high-upside WR3 types, such as Will Fuller or Marquise Brown as examples.
More Los Angeles Rams pages:
Check out more of our content: