Entering the league as a fourth-round pick, Dallas Cowboys quarterback Dak Prescott had immediate success as the NFL Offensive Rookie of the Year in 2016.
While Prescott missed the final 11 1/2 games of the 2020 season, he has never finished any worse than fantasy's QB11 in any of his four full seasons.
In his last full season, he scored the second-most fantasy points behind Baltimore's Lamar Jackson, the 2019 NFL MVP. In addition, Prescott and the Cowboys' offense finished as the league's top-ranked offense in 2019.
Before suffering his season-ending ankle injury in Week 5 last year, Prescott was off to a terrific start -- from a statistical standpoint. Prescott was fantasy's QB4 through the first five weeks of the season.
That said, the trio of Patrick Mahomes (138.86, QB2), Josh Allen (138.66, QB3) and Prescott (138.64, QB4) were separated by a mere 0.22 fantasy points -- equivalent to 5.5 passing yards -- over that stretch to begin the season.
The Cowboys defense was terrible in 2020, which forced Prescott into high passing volumes. That said, Prescott threw for a minimum (yes, minimum!) of 450 passing yards in three consecutive games from Weeks 2 to 4.
In Week 1, he faced the league's top-ranked passing defense (Los Angeles Rams) and threw for 266 yards against them. That was the third-most allowed by the Rams in 2020. And in Week 5, he left midway through the third quarter with his season-ending injury.
Even though the NFL is a passing league, there were only five games of at least 450 passing yards and Prescott had three of them. In other words, Prescott (three) had more 450-yard passing games than the rest of the NFL combined (two) in 2020. Atlanta's Matt Ryan (450, Week 1) and Mahomes (462, Week 12) were the other two quarterbacks with 450-yard games last season.
While Prescott posted a career-low 4.1 TD% in his abbreviated 2020 campaign, he posted a 68.0% completion rate and averaged 8.4 yards per pass attempt, both of which were career highs.
The Cowboys have one of the best wide receiver trios in the NFL with Amari Cooper, CeeDee Lamb and Michael Gallup. Before using their first-round pick on Lamb in 2020, both Cooper and Gallup were 1,000-yard receivers in 2019. Through Week 5 (when Prescott was injured), both Lamb (WR11) and Cooper (WR12) were performing as a top-12 fantasy wide receivers.
With tight end Blake Jarwin missing the season, Dalton Schultz emerged as a competent safety valve (63/615/4) in 2020. Meanwhile, running backs Ezekiel Elliott and Tony Pollard can be factors as a receivers out of the backfield as well.
In other words, few quarterbacks have as talented of a supporting cast as Prescott has at his disposal.
Outside of last year's injury, Prescott has been extremely durable as he played all 64 regular-season games in his first four seasons.
The Cowboys offensive line is one of the better offensive lines in the league, when healthy, but they struggled as a unit in 2020 with significant injuries to their best linemen. Not only did center Travis Frederick retire in the offseason leading up to 2020, but starting tackles -- Tyron Smith and La'el Collins -- missed 30 combined games and All-Pro guard Zack Martin missed six games to end the year.
With better health, the offensive should perform as one of the top 10 offensive lines in the league in 2021.
As a thicker (6-2, 238) mobile quarterback, Prescott is a dangerous runner in the red zone. He now has 24 rushing touchdowns in 69 career games and he rushed for at least 277 yards in each of his first four seasons. He was on pace for 297.6 rushing yards last season.
While Prescott has had a second surgery in December, he is expected to be ready for the start of training camp. Any uncertainty about his availability for training camp, however, centers around his contract.
The Cowboys are expected to use their franchise tag on him again if they can't agree to a long-term deal before the deadline. That would give them until July 15th to work out a longer-term deal.
Seahawks' QB Russell Wilson has not demanded a trade, his agent Mark Rodgers told ESPN. Wilson has told the Seahawks he wants to play in Seattle but, if a trade were considered, the only teams he would go to are the Cowboys, Saints, Raiders, Bears.

— Adam Schefter (@AdamSchefter) February 25, 2021
Including the Cowboys on the short list of teams to which he's not requesting a trade, the comments by Russell Wilson's agent adds a layer of intrigue into the offseason drama surrounding Dak and his contract to monitor.
Based on scoring format, here are the current Fantasy Football ADPs for Dak Prescott:
Below is a chart of Dak Prescott' half-PPR ADP over the past month: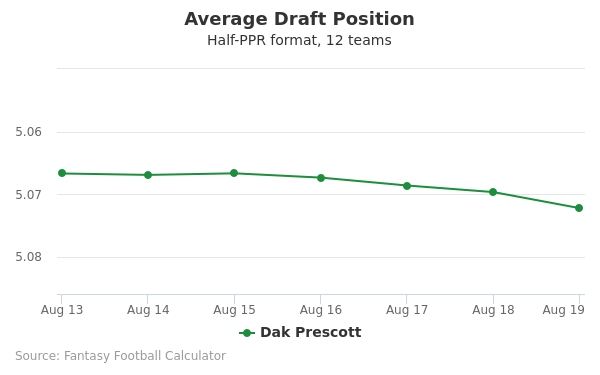 [Source: ADP from Fantasy Football Calculator.]
Bottom line
Relative value: Undervalued
Assuming Prescott is under contract (franchise tag or not) and ready for training camp, there is a bit of a discount in terms of his ADP compared to other quarterbacks. If he's able to stay healthy, he has a legitimate shot at being fantasy's top-scoring quarterback in 2021 given the team's talented pass-catchers and his dual-threat abilities, especially near the goal line. Unless I wait until later to draft a quarterback, a very likely scenario for many of my teams, Prescott will be one of the earlier signal-callers that could very well be worth his high draft-day investment.
More Dak Prescott pages:
More Dallas Cowboys content:
Also, check out more of our content:
Keep track of our site's updates: (1) follow us on Twitter, (2) like us on Facebook and/or (3) subscribe to our newsletter.