There were a few reasons why Cincinnati Bengals running back Joe Mixon disappointed in 2020.
Not only did he miss the final 10 games of the season, but the coaching staff strung fantasy managers along by making Mixon a weekly inactive instead of shutting him down earlier.
Mixon's 3.6 yards per carry was a non-rookie low and his 6.6 yards per reception was a career low.
That said, there are reasons for optimism in 2021.
As you know, volume is king in fantasy football and only Tennessee Titans running back Derrick Henry (123) had more touches than Mixon (119) through the first six games last season. Before missing the resting of the season, Mixon had at least 19 touches every week and he was also top 10 among running backs in targets (26) over that same span.
Durability is a concern for running backs in general. But it has also been an issue for Mixon specifically as he has missed multiple games in three of his first four seasons.
With good health, however, Mixon is poised to receive as much volume as he can handle. In addition, he should be even more involved as a receiver with Giovani Bernard now in Tampa.
Since 2017 when the Bengals used a second-round pick on Mixon, Mixon has averaged 3.2 targets per game. Over that same span, Bernard averaged 3.5 targets per game.
Before last season's injury-shortened campaign, Mixon ranked top-seven in touches in the two previous seasons -- 280 (sixth) in 2018 and 313 (seventh) in 2019, respectively.
The team's offensive line ranked bottom-three in the NFL in PFF's end-of-season offensive line rankings last year.
Even though the team passed on Oregon's Penei Sewell, they bolstered their offensive line considerably this offseason. Not only did they sign Riley Reiff in free agency, but they added Jackson Carman (Round 2), D'Ante Smith (Round 4) and Trey Hill (Round 6) via the draft.
In addition, reuniting Ja'Marr Chase with Joe Burrow should help the offense overall be able to sustain drives and lead to more scoring opportunities for the entire team including Mixon.
Joe Mixon Fantasy Football ADP
Based on scoring format, here are the current Fantasy Football ADPs for Joe Mixon:
Below is a chart of Joe Mixon's half-PPR ADP over the past month: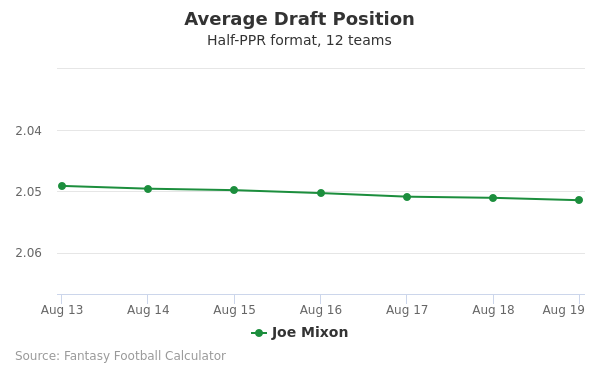 [Source: ADP from Fantasy Football Calculator.]
Fantasy Football Strength of Schedule (SOS)
Based on the cumulative fantasy points allowed in 2020 by their opponents this season, here are the ranks for Joe Mixon and the Bengals running backs rank in 2021 strength of schedule:
Mixon has a middle-of-the-road fantasy strength of schedule across all scoring formats in the regular season and when isolating for the fantasy playoffs (Weeks 15 to 17).
+ MORE: Game-by-game Fantasy Football SOS for the Cincinnati Bengals
Joe Mixon Full-Season Projections
Here are our full-season projections for Mixon:
| | | | | | | |
| --- | --- | --- | --- | --- | --- | --- |
| 272.7 | 1159 | 6.68 | 55.7 | 516.9 | 3 | 253.52 |
- Cincinnati Bengals 2021 Fantasy Football Projections
- More Fantasy Football Projections
Bottom line
Relative value: Undervalued
Mixon's ADP has gradually begun to rise, but he still offers fantasy managers some value at his current ADP near the end of Round 2. Durability is a concern for the position overall, but if Mixon is able to stay healthy, he should rank near the top of the league in workload and should be even more involved as a receiver with Giovani Bernard now in Tampa. An upgraded offensive line and addition of a playmaker like Ja'Marr Chase on the outside should lead to higher efficiency from Mixon and more sustained drives and potential scoring opportunities for the offense overall.
More Fantasy Football Profiles:
More Cincinnati Bengals pages:
More of our content:
Keep track of our site's updates: (1) follow us on Twitter, (2) like us on Facebook and/or (3) subscribe to our newsletter.