The Arizona Cardinals gave nearly all of their 418 running back touches in 2020 to two backs -- Kenyan Drake (264, 63.16%) and Chase Edmonds (150, 35.89%) -- and one of them (Drake) is no longer on the roster.
A couple of weeks prior to the 2021 NFL Draft, the Cardinals gave James Conner a one-year deal for less than $2 million to fill part of the void created by Drake's departure.
Heading into the draft, a few analysts had linked the Cardinals to a first-round running back, but that would not have made much sense from a roster-construction standpoint, especially given that the franchise had only three picks in the first five rounds.
So, the net effect of losing Drake and adding Conner ultimately bodes well for Edmonds' 2021 fantasy outlook.
Prior to NFL free agency, Cardinals head coach Kliff Kingsbury said the following of Edmonds (via PFT):
"As far as Chase goes, you've seen when he's had his opportunity, he's played at a starting running back level. We all understand that he's unfortunately been nicked up a couple times, which we want to keep him on the field. But we have all the confidence in the world in Chase and him being able to be the bell cow if that's how this plays out."
Fantasy managers shouldn't expect Edmonds to become a "bell cow," but he will most likely become the 1(a) to Conner's 1(b) given the relatively modest one-year deal that the Cardinals gave to Conner.
Conner has been efficient as a receiver (7.8 Y/R, 81.0% catch rate), but it's more likely that the Cardinals utilize him as an early-down complement to Edmonds similar to the way the Los Angeles Chargers will use an early-down complement for Austin Ekeler. In other words, I don't expect Edmonds to reach the 200-carry mark as the RB1(a) and it wouldn't be a surprise if Conner has more carries than Edmonds.
Even so, only six backs had more receptions than the Edmonds in 2020. At a minimum, he should hold serve on his role as a receiver while adding more rush attempts compared to last year's volume.
The workload gap between Edmonds and Conner won't be as large as it was between Drake and Edmonds last year, but I still project a healthy split in Edmonds' favor (57.9% to 42.1%).
When Edmonds has been on the field, he has been extremely efficient. Over the past two seasons in the current offense, Edmonds has averaged 4.78 YPC and 7.8 Y/R with 10 all-purpose touchdowns on 222 touches.
Arizona's offensive line ranks 11th in PFF's preseason offensive line rankings in general although they have generally performed better in pass protection than run blocking. That said, PFF notes that the Cardinals generated the third-highest EPA per play on runs last season (0.07).
Edmonds finished 2020 as fantasy's RB25 in PPR, RB28 in half-PPR and RB30 in non-PPR. Despite Drake's departure and the expected volume boost, Edmonds' ADPs remain in that same range.
Chase Edmonds Fantasy Football ADP
Based on scoring format, here are the current Fantasy Football ADPs for Chase Edmonds:
Below is a chart of Chase Edmonds' half-PPR ADP over the past month: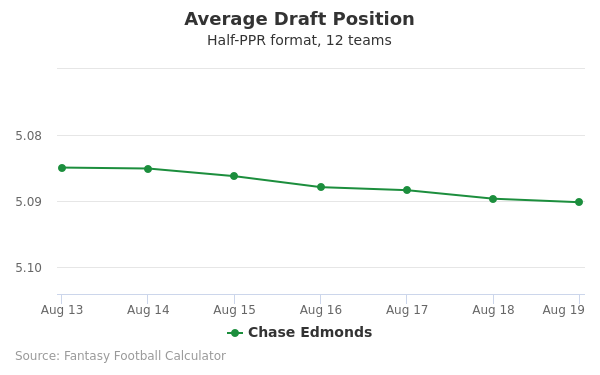 [Source: ADP from Fantasy Football Calculator.]
Fantasy Football Strength of Schedule (SOS)
Based on the cumulative fantasy points allowed in 2020 by their opponents this season, here are the ranks for Chase Edmonds and the Cardinals running backs rank in 2021 strength of schedule:
+ MORE: Game-by-game Fantasy Football SOS for the Arizona Cardinals
Chase Edmonds Full-Season Projections
Here are our full-season projections for Edmonds:
| | | | | | | |
| --- | --- | --- | --- | --- | --- | --- |
| 160 | 712 | 4.48 | 58 | 487.2 | 3.2 | 195 |
- Arizona Cardinals 2021 Fantasy Football Projections
- More Fantasy Football Projections
Bottom line
Relative value: Undervalued
As noted above, Edmonds 2021 ADP falls in line with his actual 2020 production. Increased volume may (or may not) lead to a reduction in efficiency, but an expanded workload should compensate for any potential decrease in efficiency. In other words, I feel that Edmonds is currently priced much closer to his floor than his ceiling. There is always the threat that Kyler Murray steals rushing opportunities from Edmonds (and/or Conner), but there's a good chance that you'll churn a profit if you can draft him as your RB3/flex.
More 2021 Fantasy Football Profiles
More Chase Edmonds pages:
More Arizona Cardinals pages:
More of our content:
Keep track of our site's updates: (1) follow us on Twitter, (2) like us on Facebook and/or (3) subscribe to our newsletter.